When was the last time you looked at what a cowboy boot was made of? Never? Well here is your chance.
What you see below is a typical manufactured boot diagram. However custom boots will have many of the same components. Watch out for plastic shanks, paper rands, plastic in the heels and inferior leather lining in manufactured boots.
Among custom bootmakers you will find differences as well based on personal style and technique preferences or a desire to adhere to the techniques of a specific time period in bootmaking. A good custom boot maker will not use nails to attach the heel.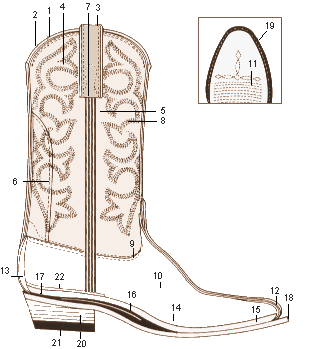 1. Beading
2. Scallops
3. Pull Straps
4. Lining
5. Front Quarter
6. Back Quarter
7. Side Welt
8. Top Stitch
9. Vamp Fitting Stitch
10. Vamp
11. Wrinkle Stitch
12. Toe Box
13. Counter
14. Goodyear Welt
15. Insole
16. Steel Shank
17. Rand
18. Outsole
19. Outsole Stitching
20. Heel Base
21. Heel Cap
22. Heel Pad